Benutzt MAGNETRON Sputtering #194492 zu verkaufen
This MAGNETRON Sputtering has been sold.
Check our Similar Products below, use our
Search feature
to find more products available for sale or
contact us
with any questions you might have.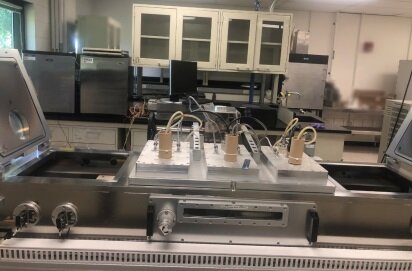 Sold
ID#: 194492
Jahrgang:
2010
Wafer Größe:
4"-6"
Ausstattungsmerkmale:
Sputtering system, 4"-6"
In‐line 3‐target system
Process variables can be monitored via ZR-RX40

(2) PSICM DC Sputter power supplies
ATOVAC GVC2200 Vacuum gauge controller and gauges
MKS 600 Series pressure controller
NOVA series ST580 Digital temperature
KODIVAC 340 Rotary pump

Main system:
(2) Chambers:
Sample chamber
Main chamber

Chamber size:
Main chamber: 3.5"x ~7"
Sample chamber: 2.5" x 3.5"
Control rack: 2" x 3"
Roughing pump: 2" x 2"

Sputter chamber: ~7" wide and 1.5" height
Carrier slider: 1" Length Al plate

Gate valve chamber: 1.5" Length
Sputter gun section: (3) Guns

Lamp heater
Sputter target size: 300 mm x 100 mm
Installed target: Mo, Cu-Ga, In
Isolation gate valve: 1 for sample, 1 for vacuum
Transport: Automatic motor driven

Vacuum system:
KODIVAC 1600K Rotary pump
GENESIS ICP 250L Cryo pump
Automatic vacuum / Process control with LED display
Vacuum sensor / Control: ATOVAC GVC22005

Sputter system:
Sputter power supply: (2) 2 kW PSTEK DC Power supplies
(4) Gas flow controls:
SEAHWA KRO-4000
KOFLOC 3665
SEC 7440

Substrate motion control:
LED Panel display with speed controller

Manuals included
2010 vintage.

[+] Weiterlesen
[-] Schließen