Benutzt AIRCO TEMESCAL BJD-1800 #9212518 zu verkaufen
This AIRCO TEMESCAL BJD-1800 has been sold.
Check our Similar Products below, use our
Search feature
to find more products available for sale or
contact us
with any questions you might have.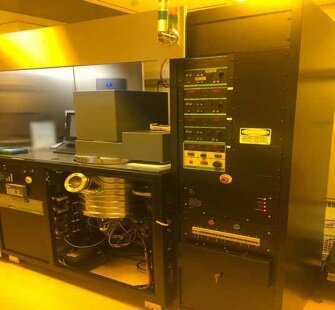 Sold
ID#: 9212518
Jahrgang:
2009
Ausstattungsmerkmale:
Sputter system

(3) Cathodes:
(2) Cathodes: Configured for RF MAGNETRON co-sputtering
Cathode: Configured for DC MAGNETRON sputtering

Load lock consists:
Gate valve
Adapter flange
Motorized linear motion assembly
Diameter stainless steel process chamber, 18"
Lower source tray swings out for maintenance

Rotating substrate table:
Diameter: 7.5"
RF Biasing capability: 300-Watt
Rotate: 5 RPM-100 RPM

Process chamber:
Fully shielded and shielding is flame sprayed
Pumped with ALCATEL 5900 Turbo molecular pump (880 l/s)
Servo motor controlled throttle valve
(3) ANGSTROM SCIENCES MAGNETRON Cathodes: 2" Diameter
Independent shutter system

ADVANCED ENERGY MDX DC Sputtering power supply: 1kW
(2) ADVANCED ENERGY 600 Watt RF Generators
Automatic impedance matching networks for magnetron cathode sputtering
ADVANCED ENERGY 300 Watt RF Generator
Automatic impedance matching networks for biasing substrate
(3) MFC (Mass flow controls)
Process gas plumbing: UHP Stainless steel
VCR Fittings throughout
Electro-polished
Orbitally welded
Fully leak tested
Full-scale capacitance manometer: 1 Torr
Automatic isolation valve to prevent venting of manometer
LEYBOLD D-30 20.9 CFM Mechanical pump
System base pressure: Better than 1x10-7 torr
Materials: Ti, Cr, W, Ge, Si, Fe, MoS2, ITO, Ag, Nb, Cu, SiN, TiN, Al
Documentation
2009 vintage.

[+] Weiterlesen
[-] Schließen