Benutzt TECPORT Cantata #9124385 zu verkaufen
This TECPORT Cantata has been sold.
Check our Similar Products below, use our
Search feature
to find more products available for sale or
contact us
with any questions you might have.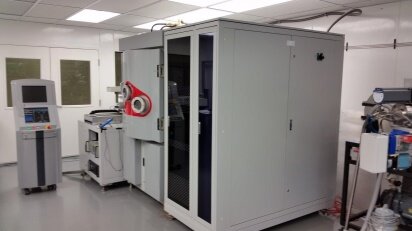 Sold
ID#: 9124385
Ausstattungsmerkmale:
Ion Beam Sputtering (IBS) System
3-Grid RF Beam
Control interface

Vacuum chamber: Symphony 8; 800mm W x 800mm D x 700mm H
Frame assembly: Tecport with duct system
Rotation system: planetary, (4) 88mm diameter substrate holders
Substrate heater: Eurotherm, SCR halogen heater
Temperature controller: Eurotherm 2408 PID programmable
High vacuum pumping system: Helix CTI OB 320 cryopump with 9600 compressor
Low vacuum pumping system: Edwards
Vacuum gauge controller: Granville-Phillips 307
Vacuum gauge: Granville-Phillips: (2) convectron gauge, (1) tubular ion gauge
Optical monitor system: Intellevation IL 550 Series
RF ion source: KRI 14cm RF ICP gridded ion source package
Target assembly: Tecport, (3) 12" assemblies with automatic indexer
Ion source: KRI EH400HC with hollow cathode electron source
Rack system: Tecport
UPS: MGE Pulsar Extreme M22000RT-2U
Computer: Dell PowerEdge 2950
Touch screen: (2) 15" ELO Intellitouch
Keyboard and mouse
PLC: Allen-Bradley ControlLogix 1756
Kiosk stand: Tecport
(5) MFC: (2) RF ion source, (2) End-hall ion source, (1) HCES
Auto pressure controller: Apex
Shields: Tecport
Software package: Symphony OPUS
Load lock package: Tecport.

[+] Weiterlesen
[-] Schließen